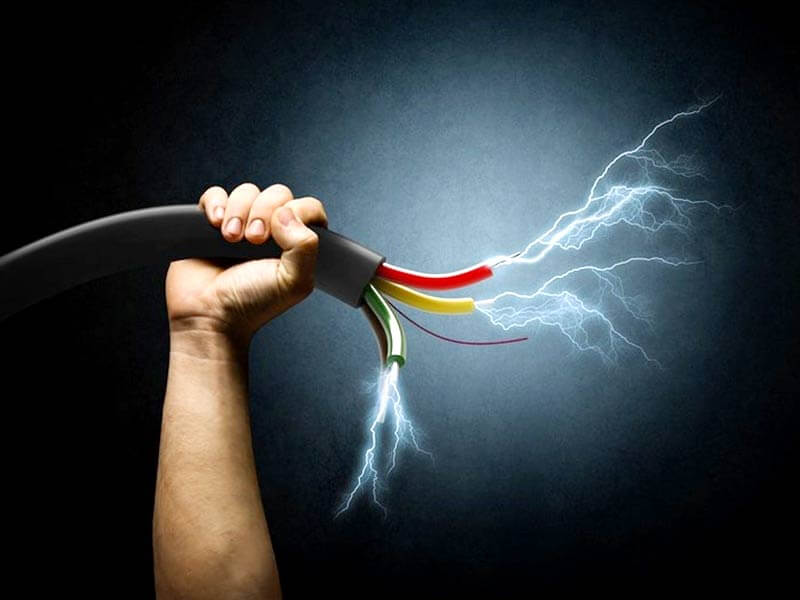 Note: NEVER ignore an electric shock or tingles from anywhere in your home, whether it is from a tap, a pipe or an appliance. It may be a warning sign that there is something more serious going on with your home's electricity supply and here at Green Efficient Living, we take electrical safety extremely seriously.
Recently a fault in the earthing system outside a Perth home, caused a young girl to suffer a life-threatening electric shock from touching a garden tap. Have you ever experienced a small electric shock or tingle whilst touching a tap in your home?
Getting an electric shock from anywhere in your home should never be ignored – without attention, it may become dangerous! It is generally a warning sign that your electricity is not flowing through your home as it should be, and there may be a few reasons why.
WHY DO WE EXPERIENCE ELECTRICAL SHOCKS OR TINGLES WITHIN THE HOME?
A bad earth connection or a poor neutral wire/neutral bond are the most common reasons why people experience electric shocks. For electricity to flow within your home to a light or to an appliance, a complete path (circuit) must be provided for it to return to the electricity supply. The active wire carries the electricity from the electricity supply, while the neutral wire returns the electricity to the electricity supply – so there are always at least two wires to each appliance. Many appliances these days have a green-yellow wire (earth wire) connected to it, in which the other end is connected to an earth stake. A current will always take the path of least resistance so if your earth connection is good then the current will flow freely down this path instead of flowing through you. An earth connection using an electrical earth stake is essential for the effective operation of safety switches.  
If you have received an electric shock when you have touched a tap, it may be because an active wire from an appliance is touching a metal pipe somewhere in your home and there is now electricity flowing through that pipe. If your earth wire is connected correctly, it should trip your safety switch or circuit breaker and remove any safety issues before you touch your tap. A fault in the earth connection means that the safety switch or circuit breaker cannot be activated and the pipe now becomes live. When you touch the tap, and your feet are on the ground, you complete the circuit, so electricity can flow through you and you experience the electric shock.
I'VE BEEN SHOCKED! NOW WHAT?
Before jumping to any conclusions, there are some questions that you can ask yourself. Do you experience the sensation the whole time your hand is on the tap, or do you just get a small shock when you first touch it? Do you get a shock when the water is running, or only when it is not running? Does it happen in just one area of your home or from multiple locations throughout your home? Have your neighbours experienced the same thing?
Firstly you need to distinguish whether it is simply a static shock, or something more serious. Static shocks are experienced very suddenly and are of very short duration and once the shock is experienced, the item can then generally be safely touched without experiencing it again. Static electricity is an electrical charge trapped on the surface of an object. The charge will remain there until the object is touched and the electricity can escape to an object with a weaker electrical charge. However, while static shocks may not seem as serious as other types of electrical shocks, they are still a sign that your earth connection is not as it should be.
If the shock is a lot worse than a static shock, then the situation is quite serious. If you are left feeling burnt or are experiencing pain in that area, have experienced the shock more than once, are experiencing it multiple areas of your home, or are experiencing other electrical phenomena such as flickering lights or the sound of electricity zapping, then call your electrician immediately!
It may seem unimportant, but it is worth speaking to your neighbours. If they seem to be experiencing the same issues, then it may be a faulty transformer or connection outside of your home and the appropriate company will need to be called immediately. Generally, this is the emergency number that can be found on the bottom of your electricity bill.

There are many things to remember when it comes to experiencing shocks within your home.
FIRSTLY
The first is that it should never be ignored! As mentioned, it can often be a sign that there is something wrong with your electrical circuit within your home, and it needs to be fixed immediately before the situation worsens!
SECONDLY
The second is remembering what to do in the event that somebody becomes electrocuted. Call 000 first and NEVER touch them while there is still live power running through the home. Always check for danger to yourself, and switch off the power before touching them. Once the power has been shut down, remove the patient from the electrical supply without directly touching them – instead use a non-conductive, dry material such as a wooden broom handle.
Find the full Electric Shock procedure from St Johns Ambulance here.
If you are concerned about any electrical faults within your home, or feel as though you would like an electrical assessment, please don't hesitate to call Green Efficient Living on (08) 8297 3422. We will do a thorough examination of your home to ensure that you and your family are safe.