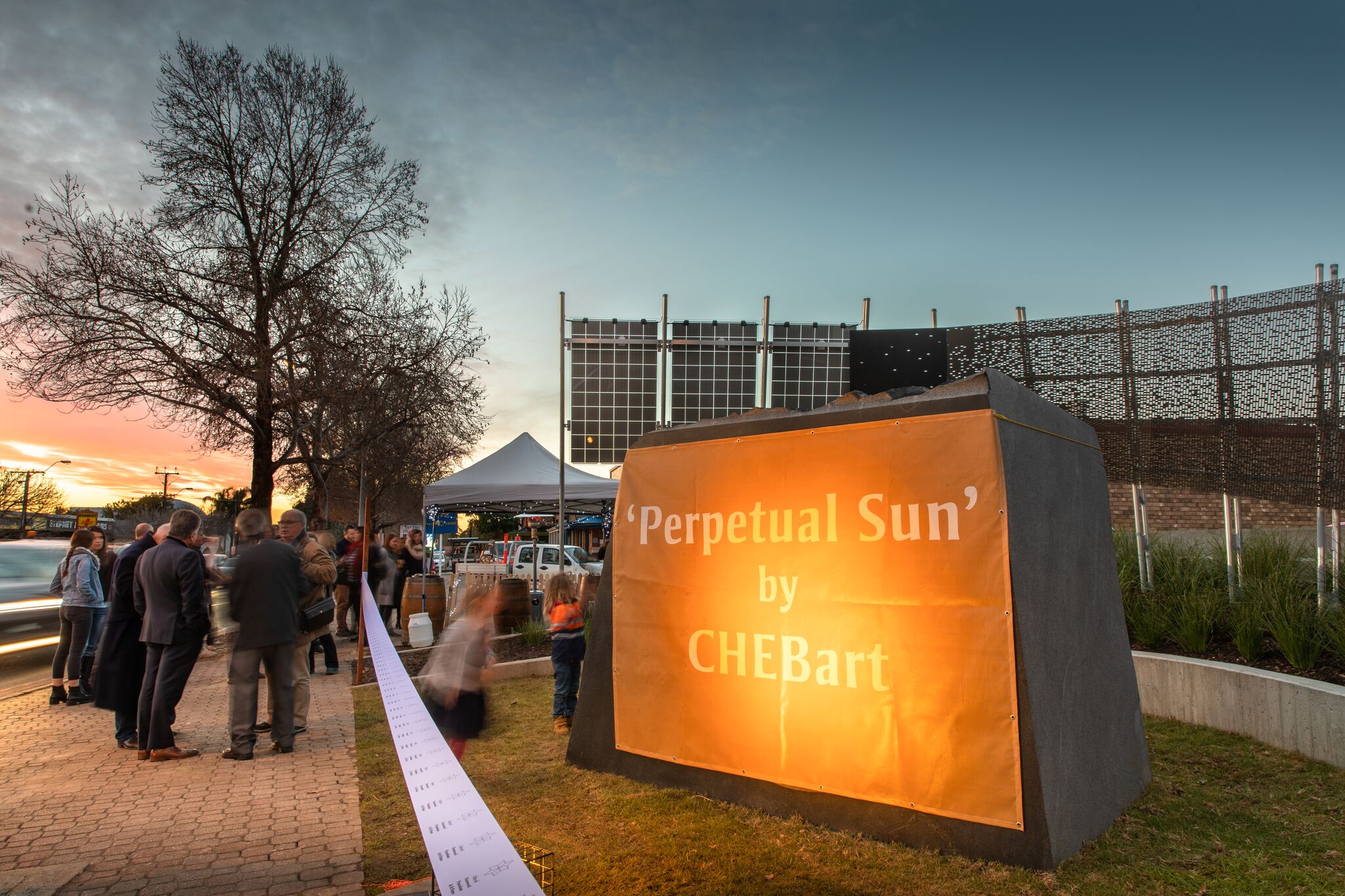 Green Efficient Living is excited to showcase its involvement in the City of Norwood's newest art installation, Perpetual Sun, at its reveal on Tuesday the 21st of August.
Designed by two of South Australia's most established artists, Christine Cholewa and Deb Jones of ChebArt, Perpetual Sun portrays the history of the area combined with the opportunity for its future.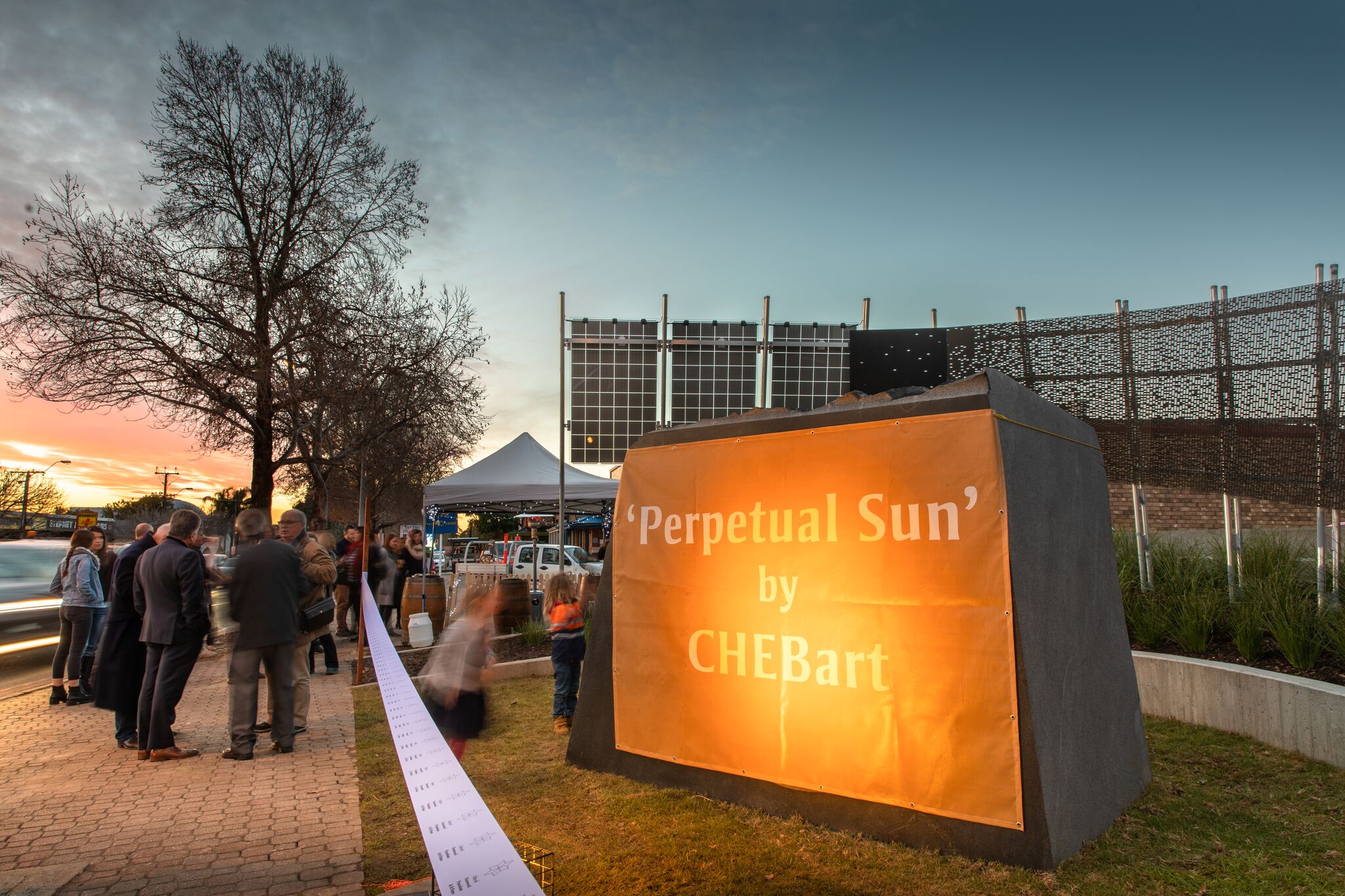 Commissioned by the City of Norwood Payneham and St Peters, the artwork is to assist the area in becoming an 'outdoor gallery' that reflects its cultural heritage.
"We wanted to combine the old of the earth with modern technology to create a beautiful third element," Christine said.
"Our two main elements were stone and solar power. Together they will represent the foundations of the area and the openness for the future.
"We placed a lot of pressure on ourselves because this is our neighbourhood, so we wanted to make something that all of our mates and our community would like."

The installation includes a block of raw Adelaide Black Granite featuring a concave semi-sphere caved out. As the sun moves throughout the day, the sphere will display a moving shadow, representative of our perpetual sun.
City of Norwood Payneham and St Peters Mayor Robert Bria proudly unveiled the artwork on Tuesday night and said that it successfully 'engages, challenges and stimulates the city' while 'supporting the cities sustainability objectives.'
Green Efficient Living was approached to design and install the solar component of the installation.
'The Solar Wall', as it is called, was designed to be slick and modern and representative of how forward-thinking the area is.
Green Efficient Living worked closely with Christine and Deb to ensure that our collaborative design worked within the constraints and the brief of the installation.
"We knew when Christine and Deb approached us that we would try to see how far we could push our knowledge, creativity and expertise," Green Efficient Living Solar Director Kody Toeroek said.
"We truly believed that we could use solar panels as a strong stand out in the art, rather than just a tool, as we had some really interesting ideas.
"Christine and Deb took on board all of our ideas and we were really excited to see how far we could push our design while keeping it within the constraints of the budget."

Green Efficient Living decided on DuoMax solar panels, a dual glass panel that allows light to pass through the glass around the cells, highlighting them as a feature rather than just as a productive element.

These panels are 60 cell multi-crystalline panels with an ouput range of 255-265W. Green Efficient Living decided on these panels due to their improved durability, increased value, and more aesthetically pleasing appearance. They will be used to power the spotlight that will illuminate the granite sphere at night.
Green Efficient Living would like to thank Christine and Deb of ChebArt for the opportunity to test our design and install expertise. We would also like to thank every other trade involved in the installation for creating an extremely easy and enjoyable install.